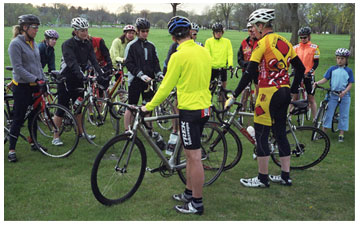 Capitol Velo Club has offered several clinics to its members over the past seasons. Our clinics represent the effort of CVC, combined with the support of riders from Brazen Dropouts, Team Kenda, and other racing clubs to grow women's cycling by improving the skills and confidence of both novice and advanced riders.
Our past clinic offerings have included Gordon Paulson's "Designing Your Racing Season", Damon Rinard's "Turning Techniques" and "Defensive Riding Skills" (with help from David Blomme), as well as "Sprint & Attack" by Team Kenda racers Kristin Wentworth and Monique Karlen. Additionally, Jane Rinard offered two "Time Trial" clinics providing the foundation for Gordon Paulson's "Team Time Trial" clinic in Paoli.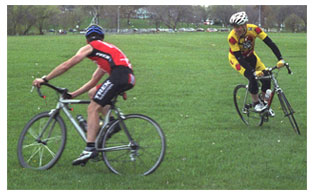 Karen Pluim followed with her annual "Basics of Pacelining" clinic, and Greg Biettler offered his classroom and practical clinics titled "Racing 101 & Racing 102."Samantha Kaplan offered her annual "Hill Climbing Techniques" clinic, and Ali Dwyer and India Viola of We Are All Mechanics taught CVC members the "Basics of Bike Maintenance."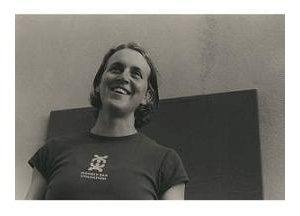 In autumn, CVC turns its attention to cyclocross, offerring clinics by world-renowned professional cyclocross racer Jonothan Page and others.
All in all, CVC offers many great opportunities to learn from others!